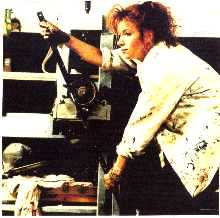 There are many different ways to present an artist's approach. Contrary to several artists, who try to secure a place into society, Joëlle B.Le Blanc appears to be in a special category of artists who have much to say.
Her work bears witness to and speaks for itself. Her great sensibility has madeher a tireless traveler, for whom everything reveals a meaning that she generously and intensely expresses in her paintings. She is forever developing new techniques to improve her art.
Joëlle B. Le Blanc painter, engraver is not only excellent in herpermanent concerns to improve her technique, but also to modify her variations by combining four very special techniques. This results is a unique style.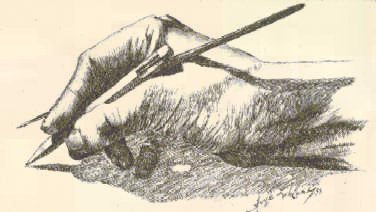 In the same manner, she presents a consistent style, one in which the movementof the body remains the witness of her own life as a competitor and professional dancer. She has forever attracted glances when her hand withdraws from the canvas and we are left suspended to the special effects of high contrasts; it's as if light was cleansing the dark scene in a movement that is both absolutelydramatic and sensual.

Through her perseverance, she won the recognition of her artistic peers and of collector investors who supported her. She was awarded International prizes and is highly encouraged. Moreover, her works quickly draw attention and since 1994 she has been selected as ambassador of Quebec Artin Europe as well as in Canada. Joëlle B. Le Blanc, a name to remember…